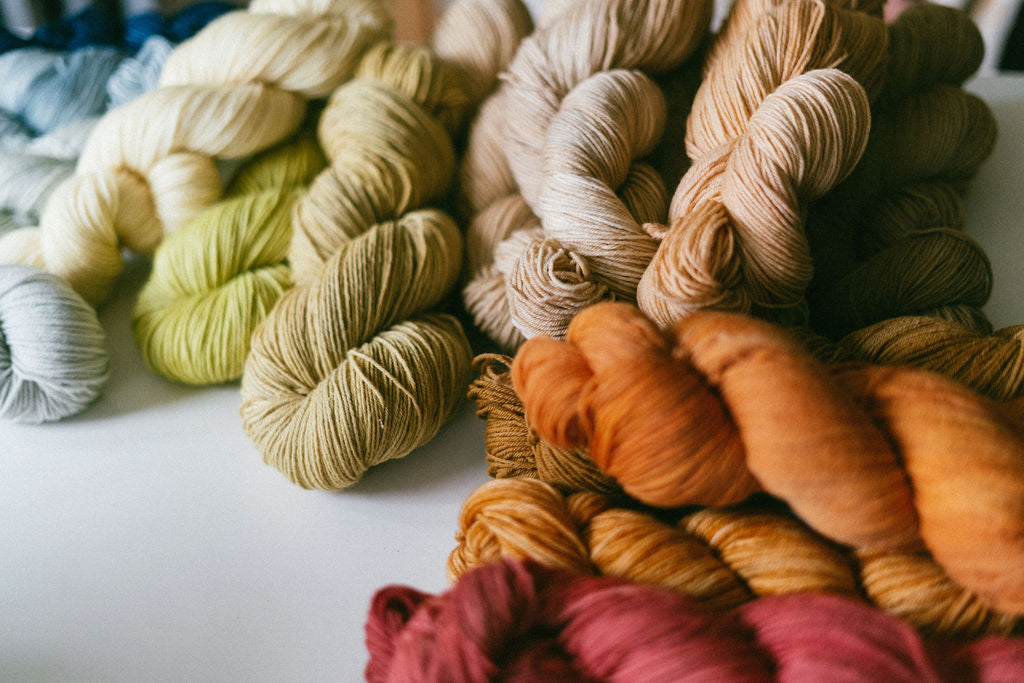 Gather your yarn projects and join us for a playful workshop in dye synthesis and natural dyeing. This workshop will provide an overview of yarn dyeing practices, as well as easy-to-access materials and tools you can find in your kitchen. Students will be able to learn techniques such as hand-painting, low-immersion dye-baths, and speckling, all of which can be used to produce five one-of-a-kind skeins. Students will demonstrate dyeing techniques to create a collection of 100g skeins of worsted 100% superwash merino wool.
Workshop calendar (select a time below)
Saturday, October 21, 2023 4pm-7pm
Saturday, November 4, 2023 4pm-7pm
Skill level + age
Beginner (no experience needed) and perfect for adults (14+).
Workshop duration 
One day, approximately 3 hours.
Additional information
Tuition cost includes workshop materials, handouts, and lecture unless otherwise noted.
If you encounter any issues with registration or want to be put on a waiting list for a sold-out class, please contact the studio at 267-312-9136 or contact us at yourfriend@modesttransitions.com
Class size is limited.
Refunds + registration policies
Workshop enrollment requires a minimum of 4 students. An email notification will be sent 3 days before class if the enrollment minimum is not met. Students will receive a full refund for canceled workshops. All workshops, classes, and camps are non-refundable if enrollment is met. If you are unable to attend, you may transfer your workshop to a friend or family member prior to the workshop. Please let us know ahead of time by giving us a call or contacting customer service at yourfriend@modesttransitions.com. Refunds will not be given for cancellations, no-shows, or missed workshops.