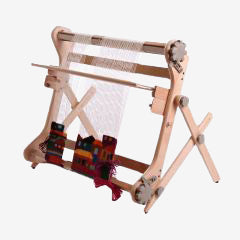 rigid heddle loom table stand
With this new stand your rigid heddle loom is in an upright position which is very comfortable when weaving tapestries or using other hand-manipulated techniques. The angle of the stand can be adjusted. The kit includes adjustable stand with rubber feet and extra side posts to hold the reed in place.
We do not stock Ashford equipment/ tools in the studio. But you're welcome to try out one of our studio Ashford looms and/or tools before purchasing. All Ashford equipment will drop-ship to your home ($22 for orders over $100 and $27 for orders under $100). Shipping for Ashford products will take up to 5 business days to process, while stocked and non-Ashford products will ship as normal.